Slint is a toolkit to efficiently develop fluid graphical user interfaces for any display: embedded devices and desktop applications. We support multiple programming languages, such as Rust, C++, and JavaScript. Find more information at https://slint-ui.com/ or go straight to github at https://github.com/slint-ui/slint
SixtyFPS UI Library
New Features

Add moved and pressed-changed callback to TouchArea ( 0aecec )
Add API to sixtyfps::Image in Rust and C++ to access the optional path ( 4eef8c )
New widget: StandardButton ( 671df0 )
Builtin can now have default binding on properties that are inherited from a NativeClass ( 3cf908 )

And make the Window have a NativeClass parent, so it can be re-used for the Dialog

Add the Dialog element ( 7f05bf )

Demos and Examples
Fixes
Contributions in 3rd party projects
Contributions submitted to third-party projects.
FemtoVG
Add support for sharing font data with the application (PR #50)

This change set adds support for supplying the font data with an application-supplied type that implements AsRef<[u8]>. This allows applications to for example supply reference-counted (shared) font data, instead of femtovg always taking a copy. The added API also allows for applications to specify face indices when using TrueType font collections and extends add_font_dir to support such collections.

Fix rendering into FBOs with OpenGL ES 2.0 (PR #51)

This change set fixes the stencil buffer attachment to not use a combined depth buffer, as that's not supported in GLES 2.0. With WebGL 1.0 there's an extension that allows for it, but we don't need that anymore by switching directly to a stencil-only attachment, which is all we need.
Applications
News about applications built with SixtyFPS.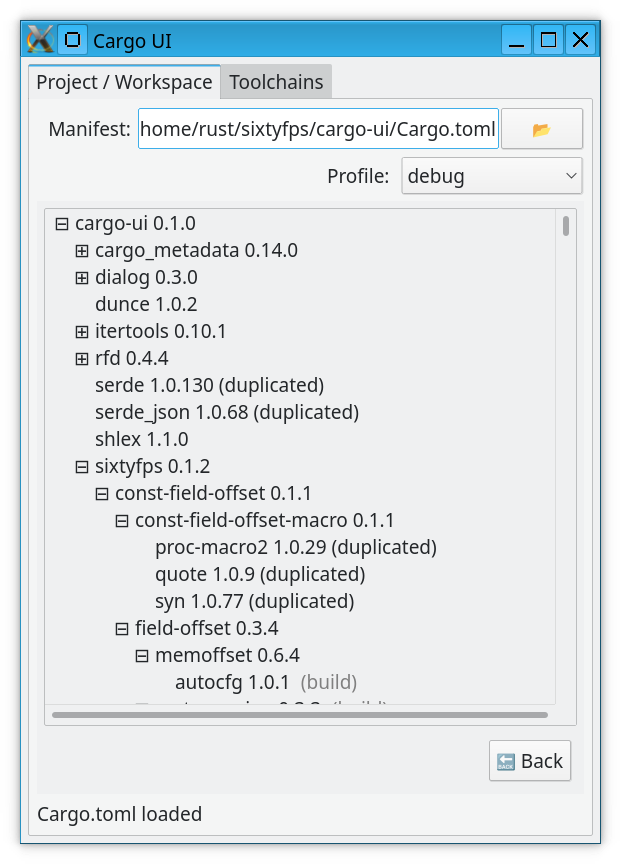 cargo-ui

Improve the dependency tree view

Dependency tree: default to collapsed dependency ( ea74ae )

Only show by default direct dependency from the workspace

Show the dependency kind in the dependency tree ( 3c36bb )
Make the tree view a bit nicer ( d0558e )

Filter the feature for the given package when a package is selected ( 7d0a1e )
Allow passing arguments to cargo run ( d69355 )
Statistics
37 patches were committed by 2 authors.